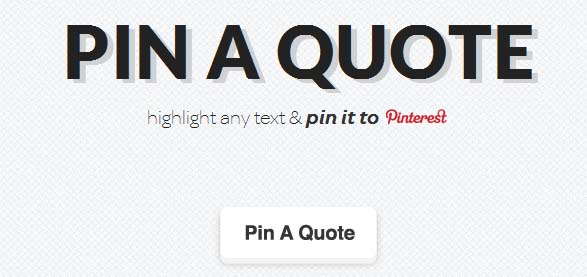 Here's the thing: I'm a bride-to-be AND I work closely with social media, but for some reason, I'm not a fan of Pinterest.  I created an account, and I pinned a bunch of things, but I just didn't get into it. Maybe it's because I'm a writer, and by default I gravitate more towards words and not pictures. I'm the type who would rather bookmark sentences and paragraphs rather than images. And since Pinterest is such an image-heavy website, I just don't fit in.
Until now. Check out Pin A Quote, a really neat tool that lets users pin text on Pinterest. Now you can show off your favorite parts of an article or blog post on Pinterest with just a few clicks. To get started, simply head to PinAQuote.com and grab the bookmarklet. To pin text, highlight the words or paragraphs that you want to pin and click the "Pin A Quote" button. The bookmarklet then generates an image for the highlighted text, which you can pin and share on Pinterest and other social sites.
What's more, for just $1.99, you can upgrade to Pin A Quote Pro, the premium version that allows users to customize text. The upgrade will let you access over 15 fonts and mix up background and text colors to your heart's content.
There truly is a lot of good stuff out there, but most users get intimidated by blocks of text and long blog posts that they miss out on the some of the awesome and profound stuff that people have to say. So try Pin A Quote yourself, and help spread the wise words of bloggers out there. Oh and be sure to send some love towards Adam Rotman, the person behind the bookmarklet.
PS: I never really advertised my Pinterest account because it's virtually empty, save for a few wedding images. But thanks to Pin A Quote, I think I'll be pinning more often. Feel free to connect with me on Pinterest here.