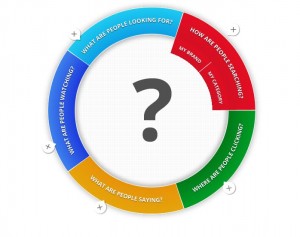 Last week, Google officially launched Think Insights, a new research center that lets users in on the studies that Google has conducted and commissioned over the years. Think Insights has a wide multi-media library that's full of case studies, infographics, and videos about the latest findings and trends in various industries. As Search Engine Land so aptly put it, Think Insights offers "data porn," and if you're a marketer, business owner, or just someone who loves stats and infographics, then it's definitely worth a visit.
I have to admit that I was quite overwhelmed with Think Insights when I first checked it out, because there was just so much information all around. It's hard to believe that they weren't charging people to use it.
The site has tons of data (statistics, survey results, conclusions) about various industries (retail, tech, travel, automotive), delivered in several forms (research papers, videos, infographics). And that's just the research library.
Think Insights also offers Planning Tools that enable users to research keywords, correlate search patterns with real-word trends, view real-time insights on what their target audiences are searching for, and a whole lot more. Additionally, the site delivers quick "Facts and Stats" to help users with presentations and case studies. You can also check out the "Thinking Ahead" section, which presents emerging digital trends that are worth watching.
It would be impossible to discuss every single feature of Think Insights in one blog post (unless you want this post to stretch up to several thousand words), so I'll save the in depth details for another entry. Instead, allow me to discuss just a few of my favorite Think Insights features that you can look into right after reading this post, in order to improve you business's marketing strategy.
1. See how the big guys did it – Think Insights offers a lot of research papers about how other companies executed their marketing campaigns. For instance, if you go to the Research Library, you'll find a study on How Expedia Drove More Shoppers to its Website. Looking to go mobile? Check out the paper entitled, Citrix Online Uses Mobile To Reach Small Businesses or see what happened when Delta Airlines Extended TV Branding to Mobile.  You can also do a search to see if Google has studies pertaining to a particular topic. For instance, I typed "Small Business" and I got to read a study on how SMBs make procurement and business information decisions, among others.
2. Find out what users are clicking – Another great Think Insights feature is its "Where are people clicking?" tool that allows you to see the types of people visiting your site, and more importantly, the other websites that they're visiting. Simply type in a URL, and you'll be taken to a dashboard listing a page's number of unique visitors, and other demographic info including users' age, gender, education, income, and interests. It'll also displays a list of sites that users have visited. You can get a ton of data from this feature alone, and the insights that you gather should effectively help you in crafting, targeting, and deploying your marketing and ad campaigns.
Quick tip: If your site is new, and Google doesn't have enough data yet to produce analytics, type in the site of your competitors, and gather data from there.
3. Get your hands on some quick stats – No time to read lengthy papers? You can still get your hands some cool data with Think Insights' Facts & Stats. There you'll find brief but interesting statistics on various industries, media platforms, audiences, and marketing objectives.
Truly, Think Insights with Google can give you some really valuable… well, insights. The thing is though, there's so much data in there that's so easy to sink in to all of it, and just absorb the information without doing anything. Don't fall into this trap and let all that data sit in some filing cabinet in your brain. Use your new-found knowledge to revise your web copy or tweak your marketing campaign.
Speaking of insights, be sure to share yours in the comments section below.